EXCELLENCE. ENGINEERED.
Project Thunderball is our extraordinary response to the electrification revolution that is tearing through the automotive world. Honed and evolved, it fuses the characteristics that make electric powertrains so astonishing, with the unique features of a Wiesmann. In so doing, we have delivered not simply the world's first all-electric convertible sports car, but an all-electric sports car that drives like a true Wiesmann. Thunderball is available to order now.
"This is the culmination of a dream, the result of years of design excellence and engineering brilliance. I truly believe we've made not just the world's most exciting electric sports car, but a car so unique that it will appreciate in value over its lifetime."
Roheen Berry, Owner, Wiesmann
EXHILARATING PERFORMANCE
Project Thunderball's performance credentials are indisputable. Power comes from twin electric rear-mid mounted motors delivering up to 500kW (680hp) to the rear wheels and 1100 Nm of torque, bringing phenomenal straight-line performance and a targeted 0-62mph (0-100km/h) sprint acceleration time of 2.9 seconds, for an unrivalled exhilarating drive which the owner will never tire of.
Finely crafted from advanced carbon fibre, Project Thunderball astonishingly weighs in at little more than 1700kg (3747lb), with a power to weight ratio of 2.5kg per HP, bringing remarkable agility and handling more than worthy of the Wiesmann badge. The target range of Project Thunderball is 500km, thanks to its state-of-the-art 800V high-voltage architecture providing a maximum 92kWh battery capacity (83kWh available) – uniquely high for a roadster. The car can be charged with its 22kW onboard unit at the owner's home, or extremely fast with up to 300kW DC fast charging at a rapid charge public charger.
INNOVATION. REVOLUTION.
Making the very most of Project Thunderball's advanced electric powertrain to achieve the trademark Wiesmann driving feel, steering wheel-mounted paddles allow instant adjustment of the car's unique Wiesmann Intelligent Regenerative Braking System. Developed specifically for Project Thunderball using some of the best engineering expertise in the industry, the system embodies the car's ethos of timeless design and styling meeting cutting-edge innovation, setting the standard for future developments. With five settings available, the driver can change the twin electric motors' regenerative braking feel to give a powerful engine braking effect into corners, recharging the battery and allowing optimum use and minimal waste of energy. In the true spirit of Wiesmann's 'Drivers' car' DNA, a change in setting gives a purposeful moment of enjoyment to the driver, something lacking in most EVs on the market today.
In another unique driver-oriented feature for Project Thunderball, the charge display shows how fast the car is charging specifically to the kilometre, rather than to the percentage of total charge, allowing the driver a simple calculation of the optimal charge level for each specific journey. Its integrated DC fast-charging system makes for convenient and efficient recharge, while its combined AC and water-glycol-cooled battery is optimised to be charged at high ambient temperatures.
And all this is just the beginning – as the electric revolution powers ahead, we continue to innovate and give Project Thunderball even more astonishing performance.
HAND-CRAFTED LUXURY
Every Wiesmann is hand-crafted in our state-of-the-art factory in Dülmen, Westphalia, where our skilled craftspeople bring an entire lifetime of experience to the creation of our one-of-a-kind cars. From the moment you climb into the cosseting interior, you and your car become one. The finest leathers work alongside immaculately finished carbon fibre, hand-shaped wood veneers and premium metal finishes to create a powerful but luxurious sporting environment.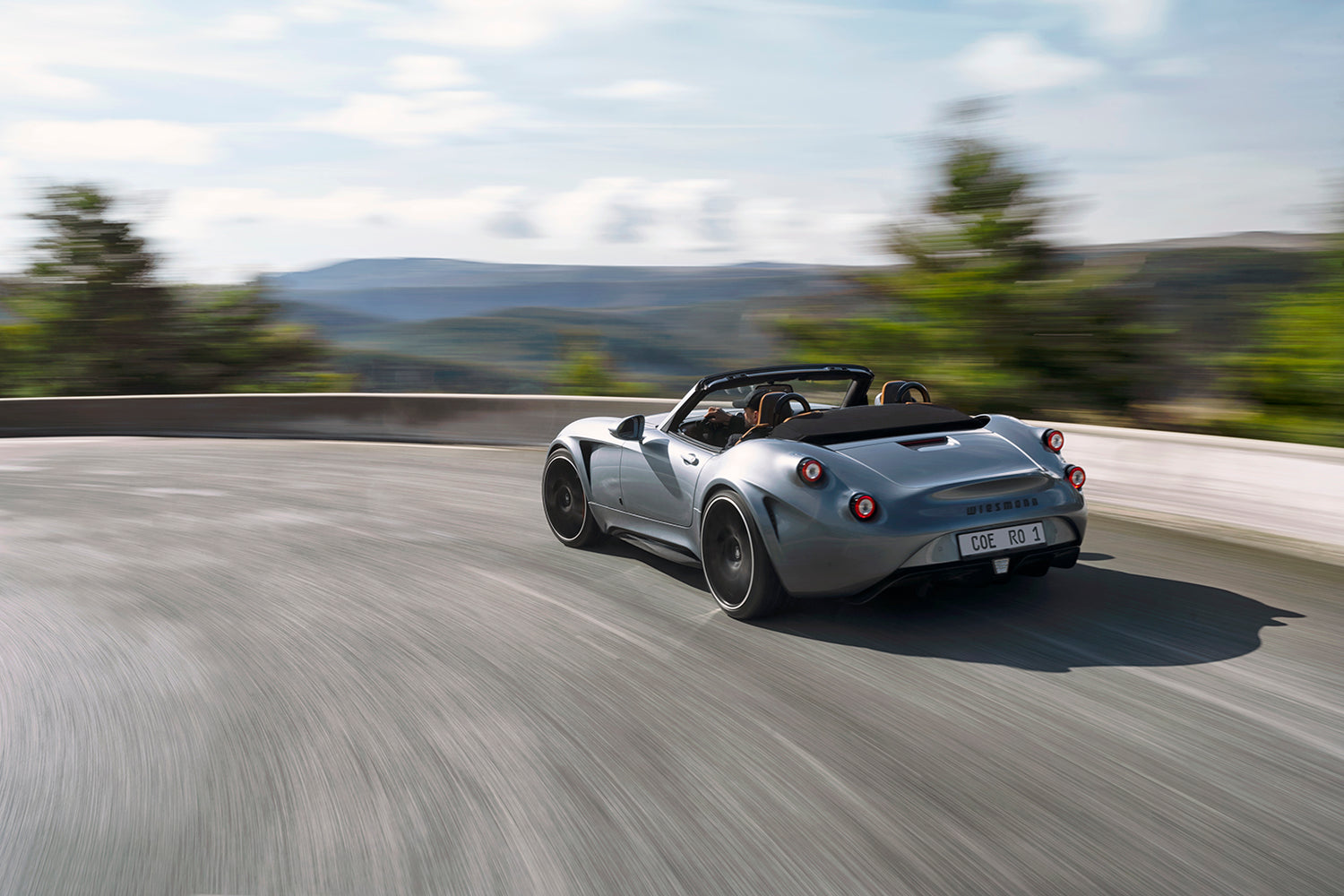 PROJECT THUNDERBALL IS AUTOMOTIVE SCULPTURE BROUGHT TO LIFE. THE RESULT: THE WORLD'S MOST BEAUTIFUL SPORTSCAR.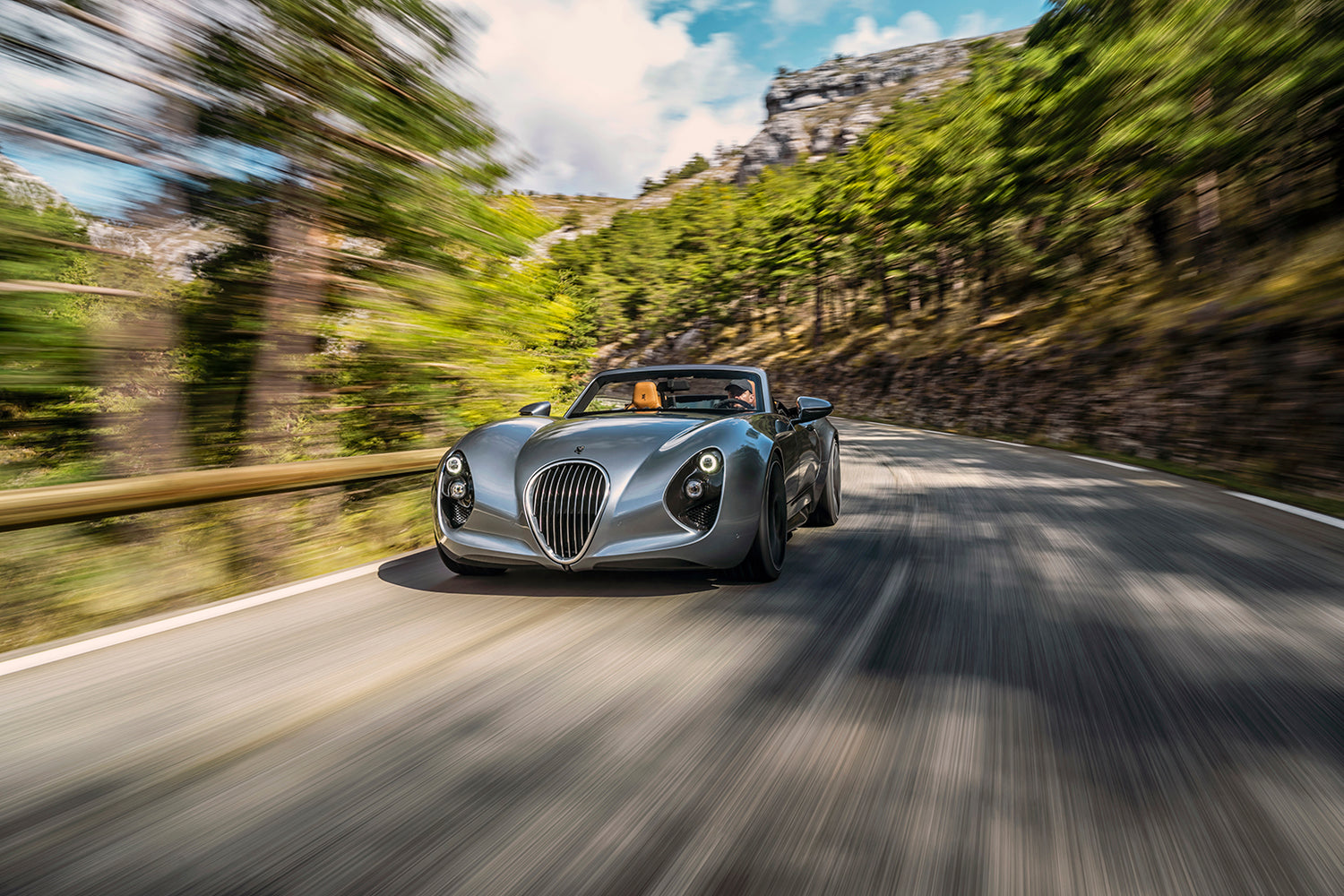 EVERY WIESMANN POSSESSES DYNAMIC QUALITIES THAT DELIVER UNBEATABLE PERFORMANCE. PROJECT THUNDERBALL IS NO EXCEPTION.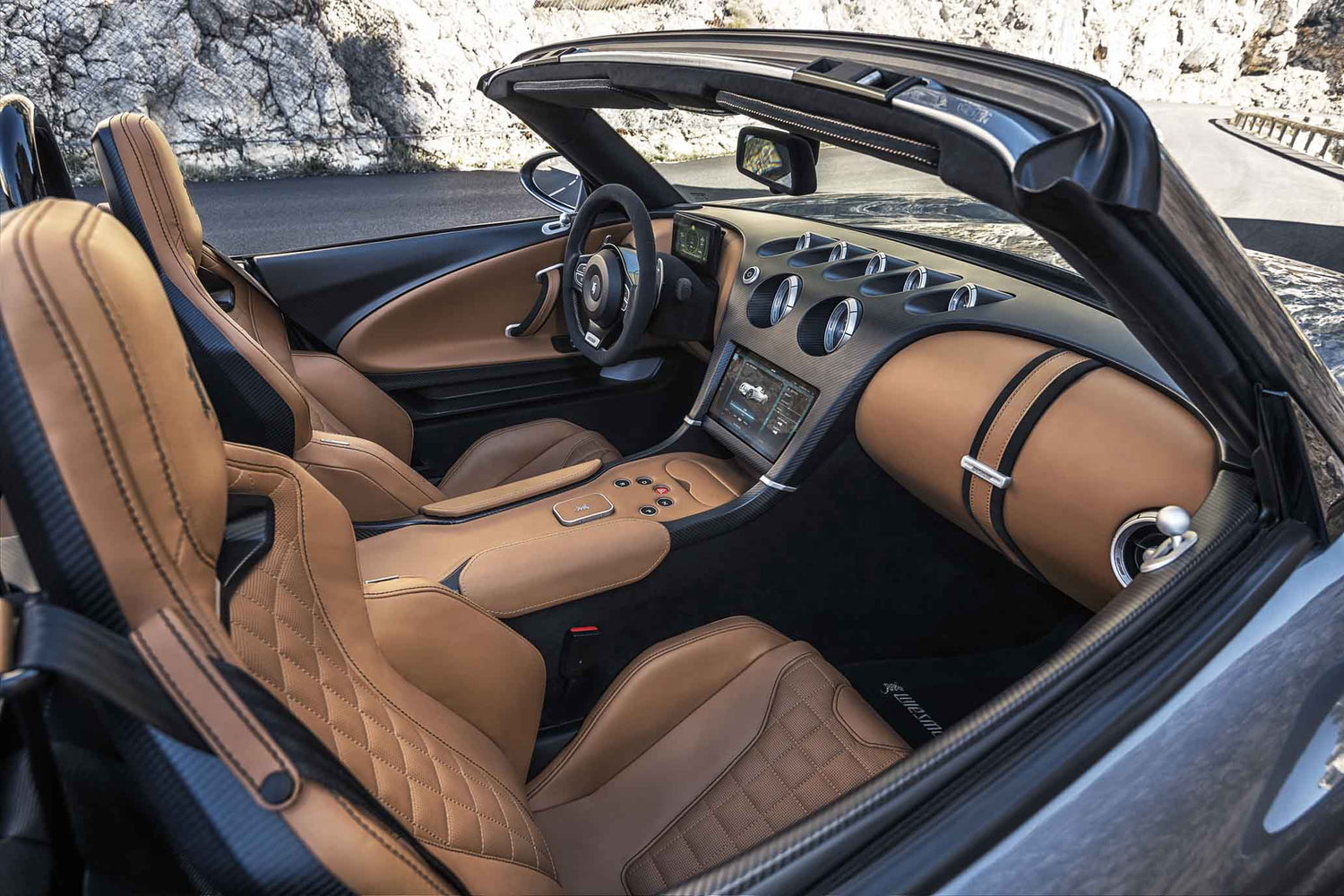 CONNOISSEURS OF MOTORING WILL RECOGNISE THE PEERLESS CRAFTSMANSHIP THAT MAKES PROJECT THUNDERBALL'S INTERIOR SO EXCEPTIONAL AND UNIQUE.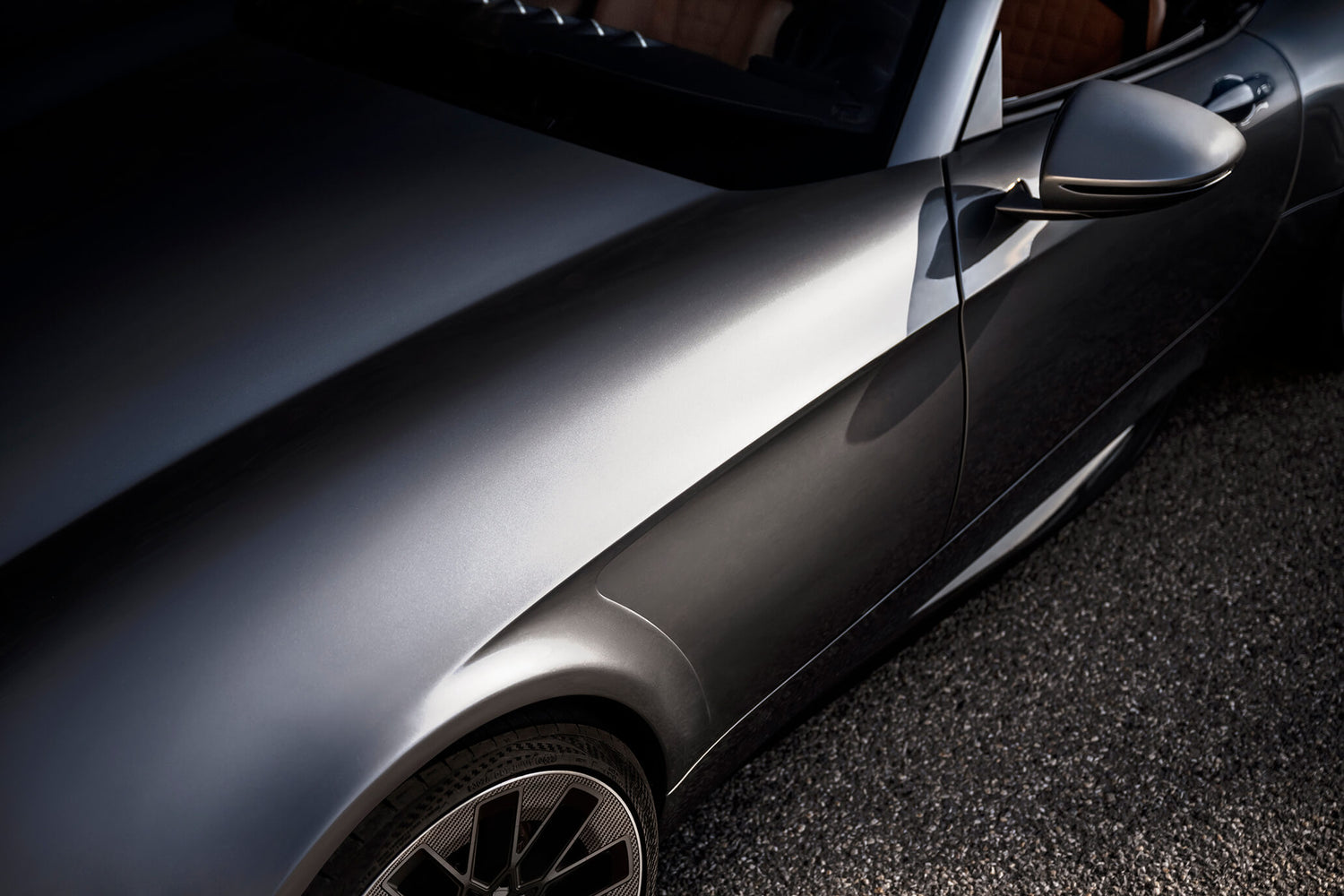 EVERY FACET OF PROJECT THUNDERBALL IS HONED AND SHAPED BY WIESMANN'S EXCEPTIONAL TEAM OF ENGINEERS AND CRAFTSPEOPLE USING CUTTING-EDGE MATERIALS AND GENERATIONS OF EXPERIENCE.
SPECIFICATIONS
BODY

TYPE: Coupé/Roadster

CHASSIS: Aluminium spaceframe

MATERIALS: Carbonfibre, steel, aluminium

LENGTH: 4440 mm

WIDTH: 2210 mm incl. mirrors

HEIGHT: 1285 mm

DOORS/SEATS: 2/2

CARGO:
Front 180 litres (2 'carry-on' golf bags)

Rear 125 litres (2 golf bags - coupé only)

CHASSIS

WHEELBASE: 2595 mm

TRACK FRONT: 1564 mm

REAR: 1668 mm

STEERING: Electric power steering

SUSPENSIONS: Fully adjustable sports suspension including adjustable anti-roll bars

PERFORMANCE

ACCELERATION:

0-100 km/h Target 2.9s

0-200 km/h 8.9s

RANGE (WLTP): Over 500 km

CONSUMPTION: 20.5 kWh per 100 km

BRAKES

FRONT: 380 mm rotors, 6 piston caliper

REAR: 380 mm rotors, 4 piston caliper

ASSISTANCE: Dynamic Stability Control / Traction Control

WHEELS

RIMS:

Front / Wiesmann Aero1 10" x 21"

Rear / Wiesmann Aero1 11.5" x 21"

TIRES:

Front / Michelin PS 4S 265/30 ZR 21

Rear / Michelin PS 4S 305/25 ZR 21

POWERTRAIN

LAYOUT: Rear mid-motor, mid battery

CONFIGURATION: Dual motor

MAX POWER: 250 kW per motor (500 kW / 680 hp)

MAX TORQUE: 550 Nm per motor (1100 Nm total)

WEIGHT

CURB WEIGHT: 1775 kg

POWER TO WEIGHT RATIO: 2.5 kg per hp

WEIGHT DISTRIBUTION (% f/r): 48/52

TRANSMISSION

GEARBOX: Single-speed

DIFFERENTIAL: Limited slip

BATTERY

VOLTAGE: 800V

CAPACITY: 92 kWh

CHARGING: 22 kW on-board AC (up to 300 kW DC)
Skip to product information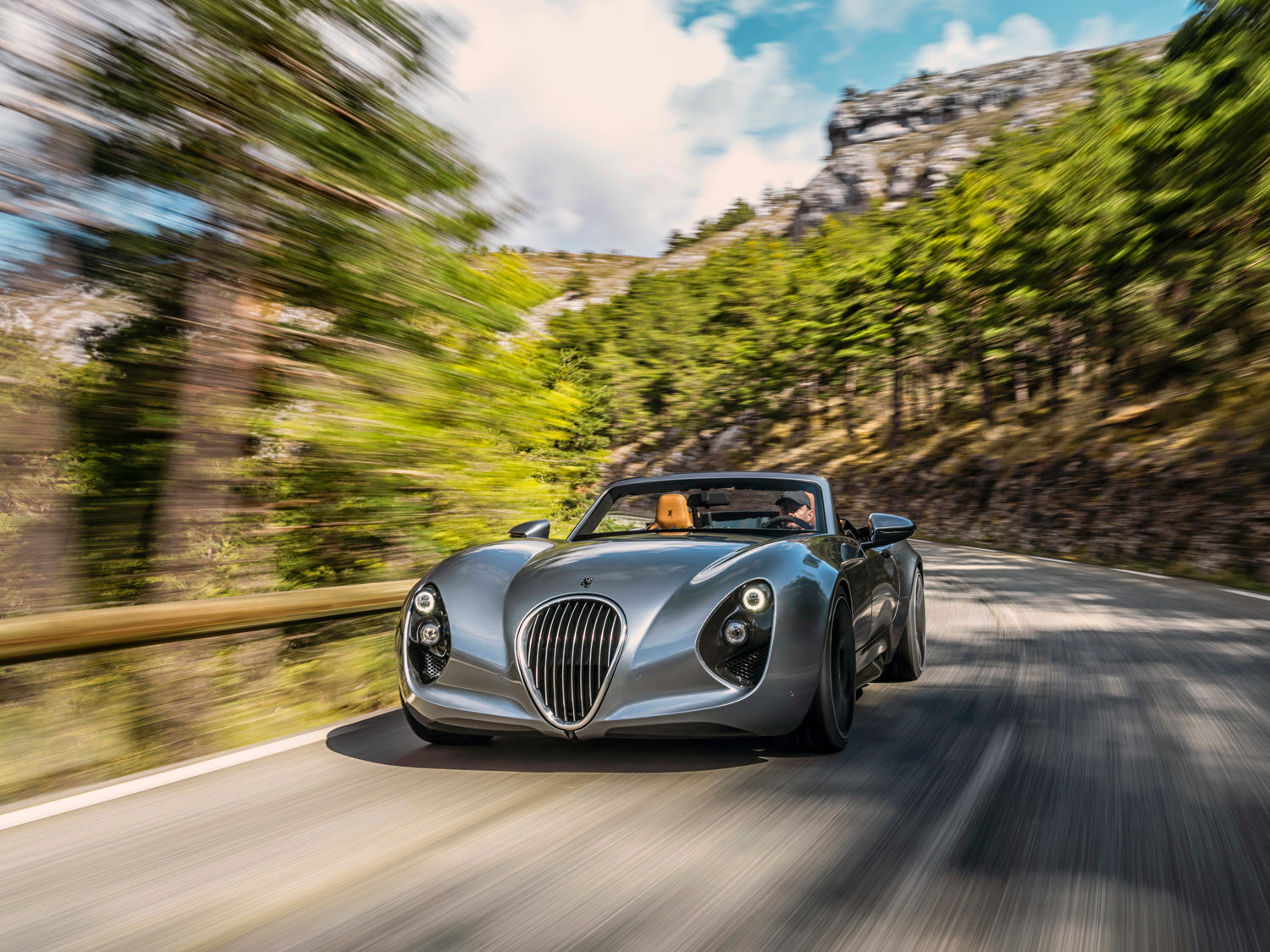 Reserving a Project Thunderball secures priority availability for the vehicle, but does not constitute a pre-order. Once the car is ready, you will be able to purchase it and configure it according to your preferences. If you decide to purchase the car, the reservation fee will be deducted from the cost of the car. Please note that the fee is fully refundable at any time if you change your mind and no longer wish to purchase the car.
Cancel anytime
Priority availability
100% Refundable
Need help?
RESERVE PROJECT THUNDERBALL
FIRST YEAR RESERVATIONS (2024 delivery)
SOLD OUT

TO PROCEED WITH A RESERVATION FOR 2025
ONWARDS, PLEASE COMPLETE BELOW
Regular price
€3.000,00 EUR
Regular price
Sale price
€3.000,00 EUR
Unit price
per
Sale
Sold out
(inclusive of VAT)